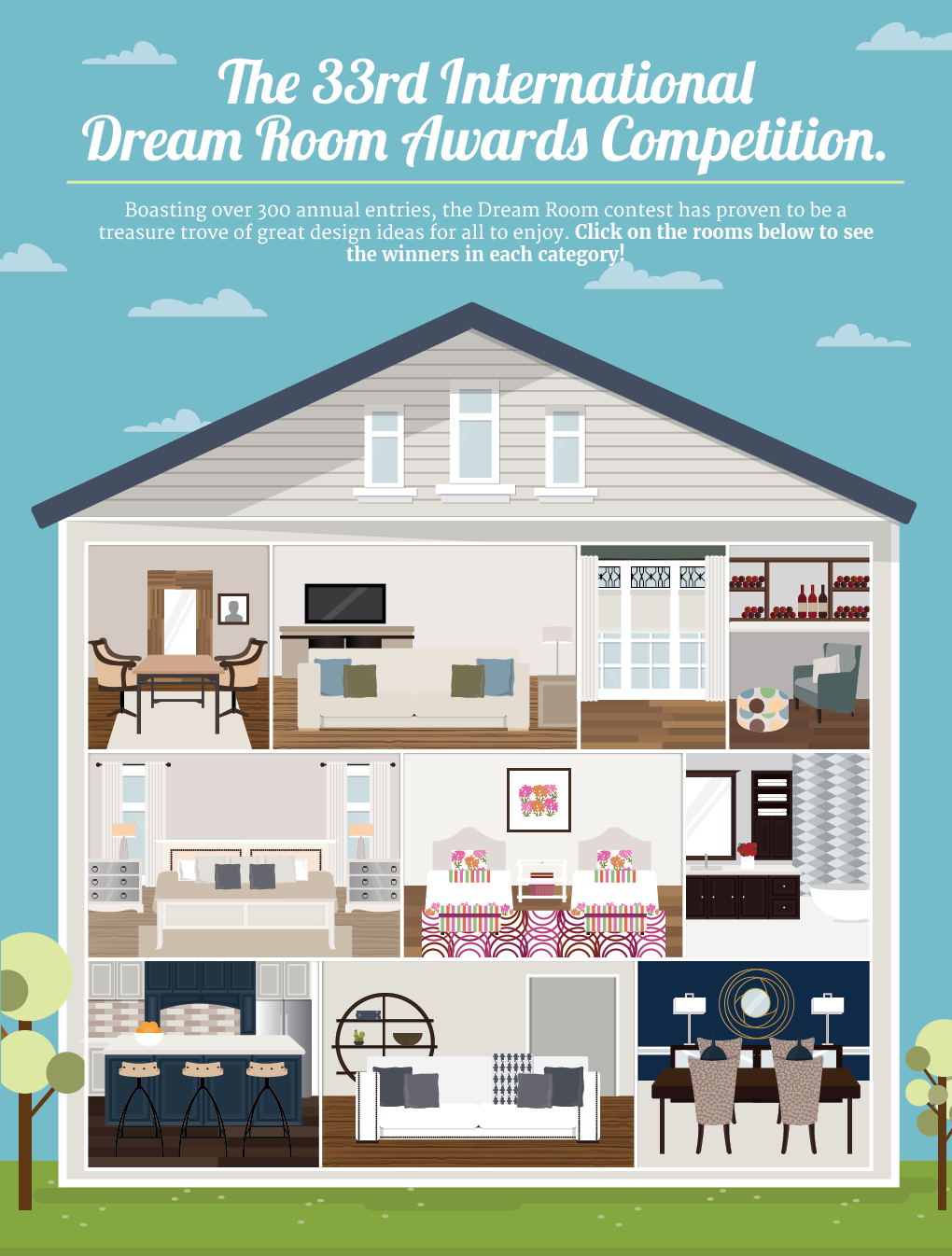 Bathroom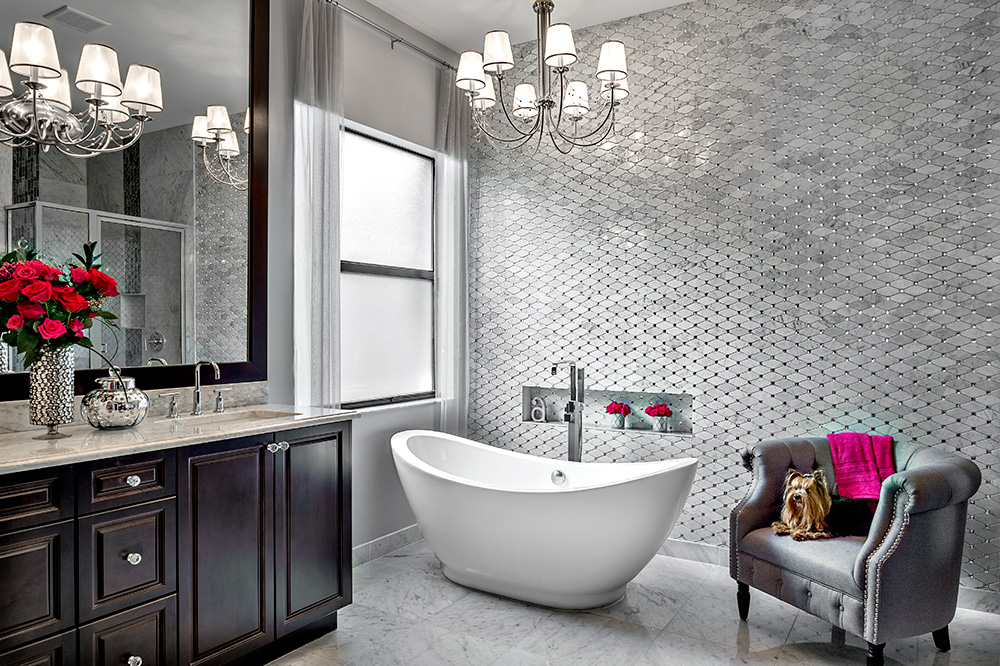 1st Place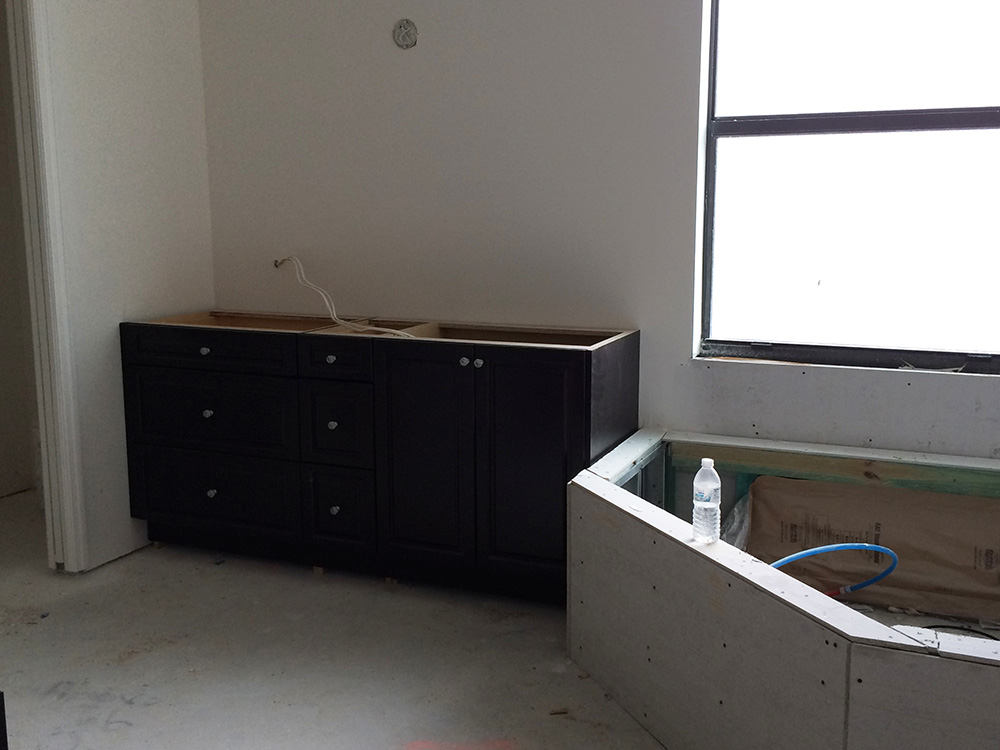 Before
Sue Thomson
Florida
To overhaul the basic bathroom, we ripped out the corner tub and installed a contemporary freestanding tub and faucet. Simultaneously, we tiled the floor in Carrera marble and installed a full wall of marble mosaic with crystal inserts, accompanying the mid-grey wall tone and large-print wallpaper in the separate toilet. The end result is a classy, glamorous washroom.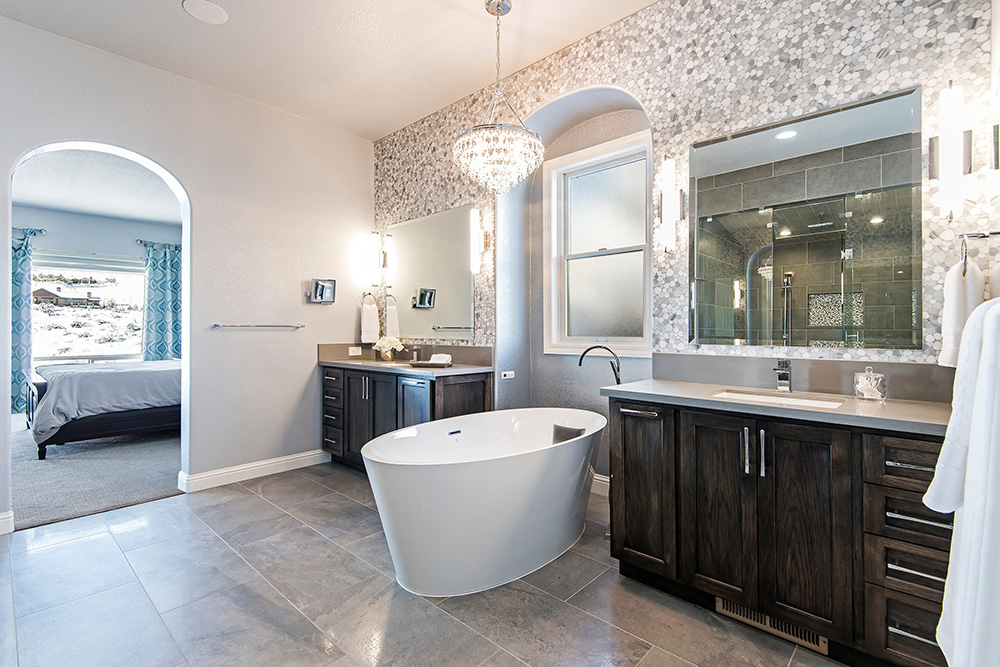 2nd Place
Kristen Fencl
Nevada
This master bathroom is transitional but with a touch of the modern. The geometric and pebble accent tiles add to the visual interest of the room, and the large crystal chandelier adds elegance and sparkle to this gorgeous master bathroom.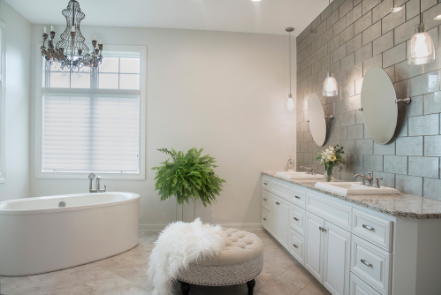 3rd Place
Suzan Wemlinger
Wisconsin
A new soaker tub, new granite, and a unique glass tile wall created a whole new look for this spacious master bathroom.
Bedroom Winners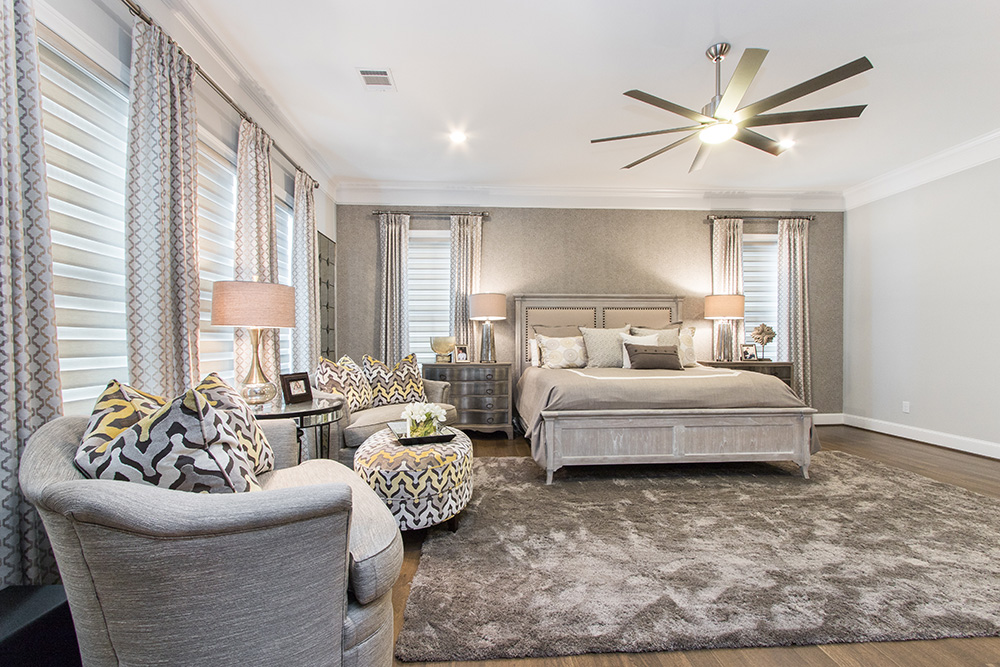 1st Place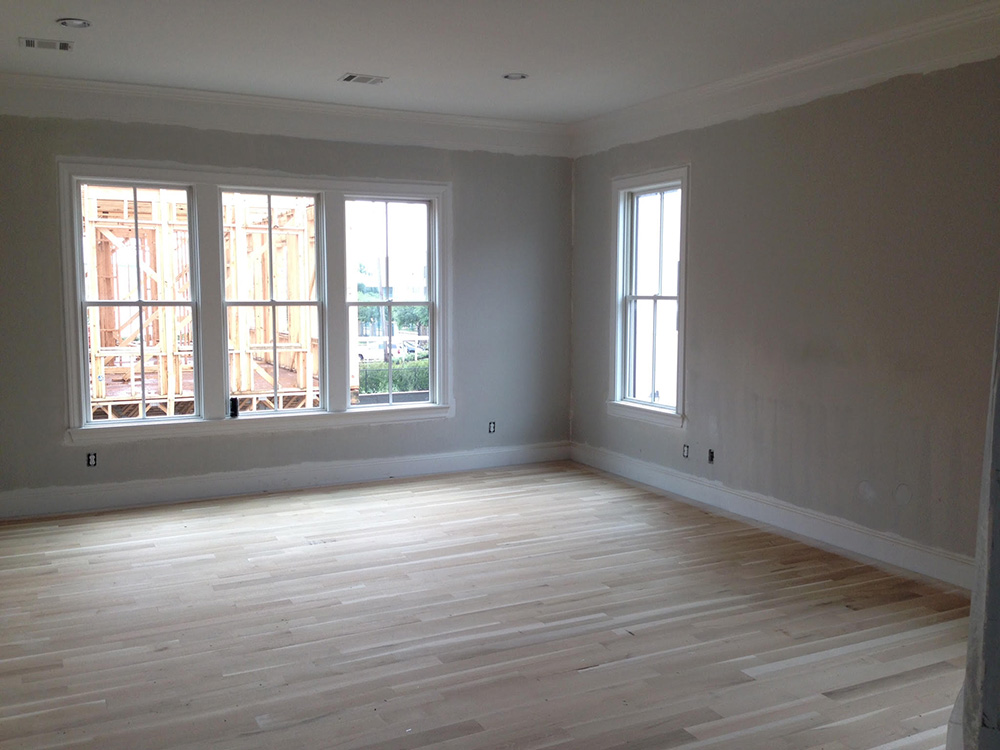 Before
Jill Shuey & Charla Traugott
Texas
An over-scaled charcoal shag rug pairs with luxurious bedding in grey, cream and taupe with a pop of yellow. A large sideboard grounded the television, and two slender lamps completed the look. Two chairs dressed in a textured shimmer gray fabric adorned with bold fabric accent pillows and a large oval ottoman. Simple, light reflective accessories completed the space.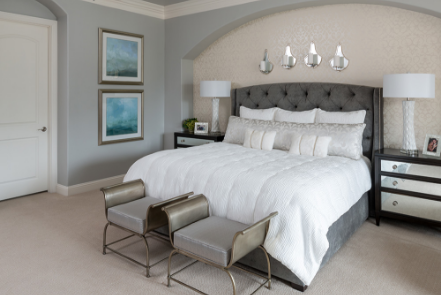 2nd Place
Dee Frazier
Texas
This client wanted a master bedroom that is glamorous and luxurious. The bedroom is a transitional space done in grays, blue-gray and creams. The room is serene and elegant - a beautiful space.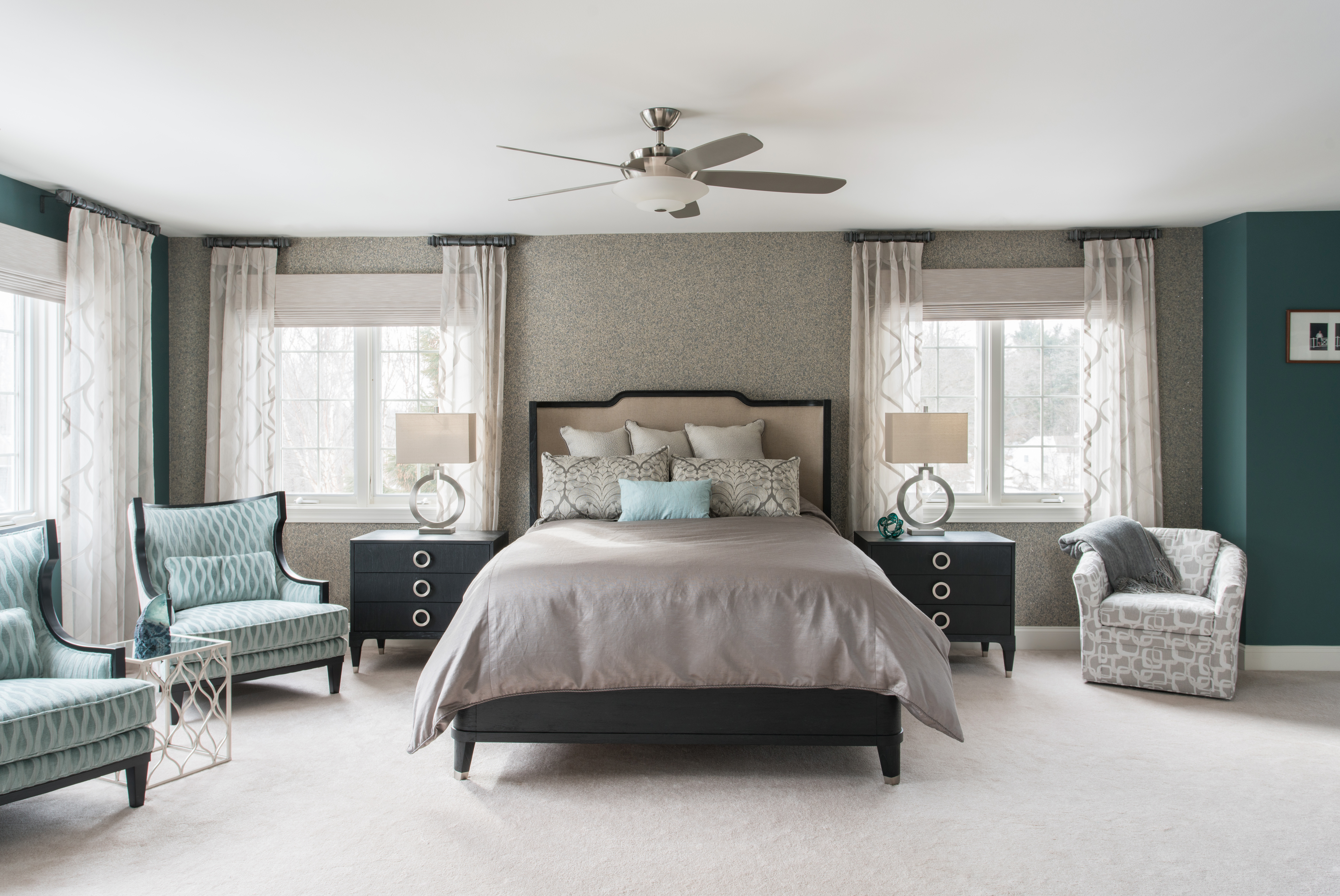 3rd Place
Mary Borkovitz
Pennsylvania
Installing a drop-from-ceiling television opens up a master suite. Metallic platinum sheer draperies frame windows creating a light, elegant look.
Children's Room Winners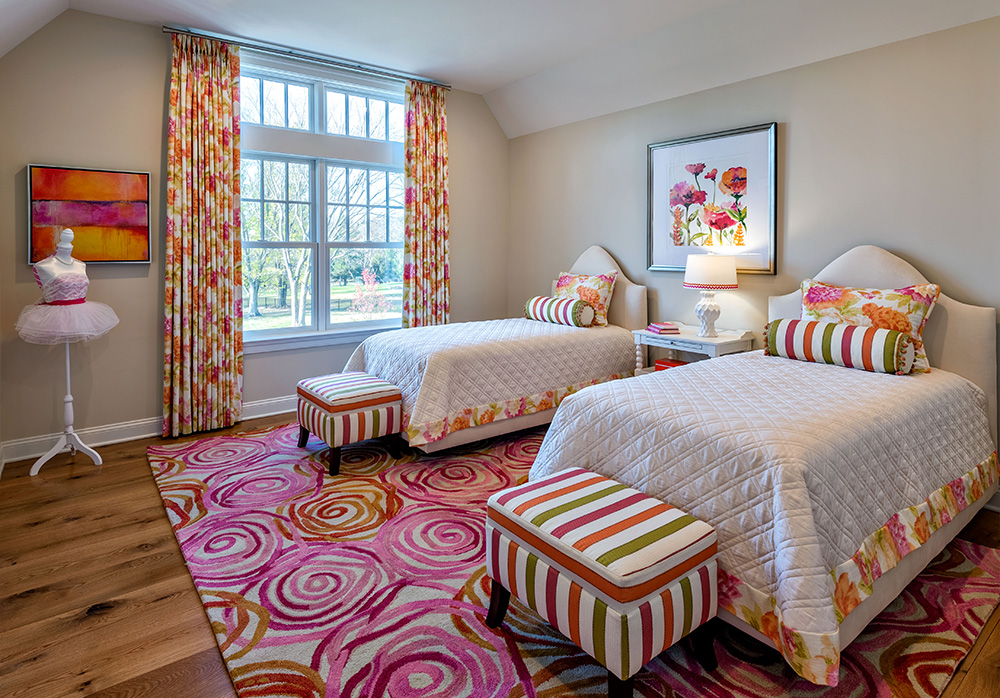 1st Place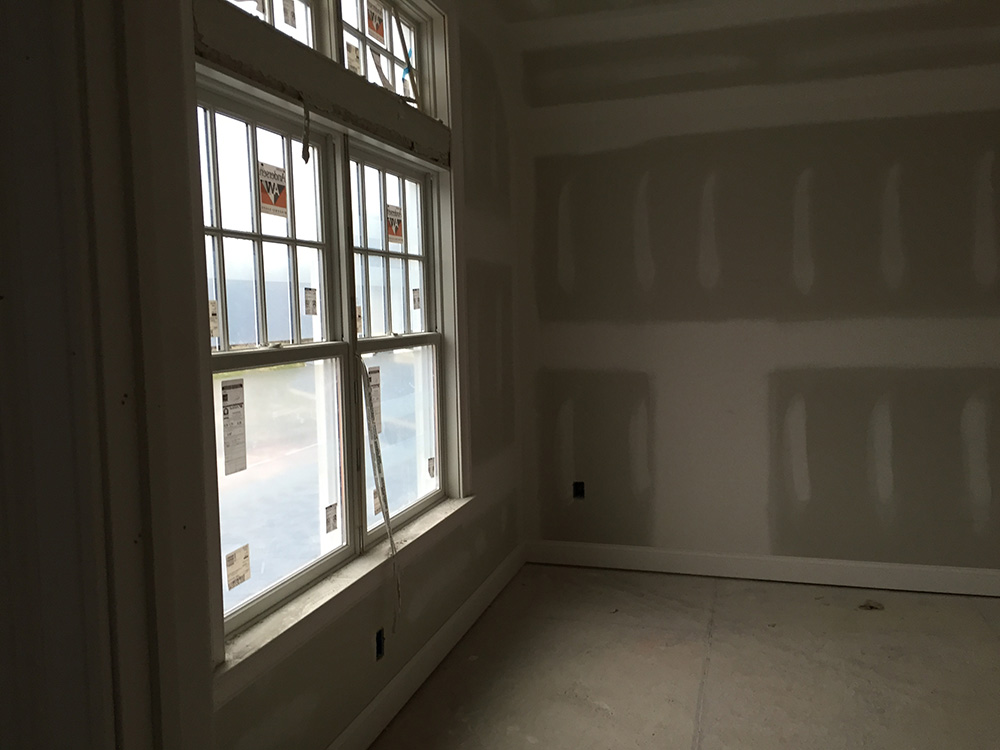 Before
Kathy McGroarty
Pennsylvania
This "Jill" room was designed with twin beds for the young guests to share. The custom upholstered beds featured a simple but beautiful coverlet - the added floral band gave the coverlet a more custom look and tied into the floral window treatments. These shades of green are the thread to the adjoining "Jack" room. This room has been everyone's favorite!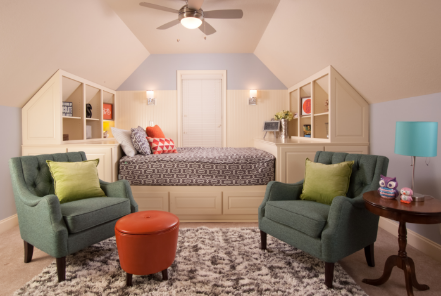 2nd Place
Rachael Sheridan & Sandy Kozar
Tennessee
We converted an unused attic into a vibrant teen bedroom with classic details. The built-in bed maximizes the storage with bookcase and drawers. The brightly colored accent furniture, bold orange nail-head chest, contemporary tufted aqua chairs and a geometric shag rug create a fun and uniquely personalized space.
3rd Place
Jan Bromberek
Illinois
This over-the-top children's nursery features zebra animal-print wallpaper on the ceiling, black chalkboard paint on the walls, along with a matching rug, chair, and upholstered cornice.
Dining Room Winners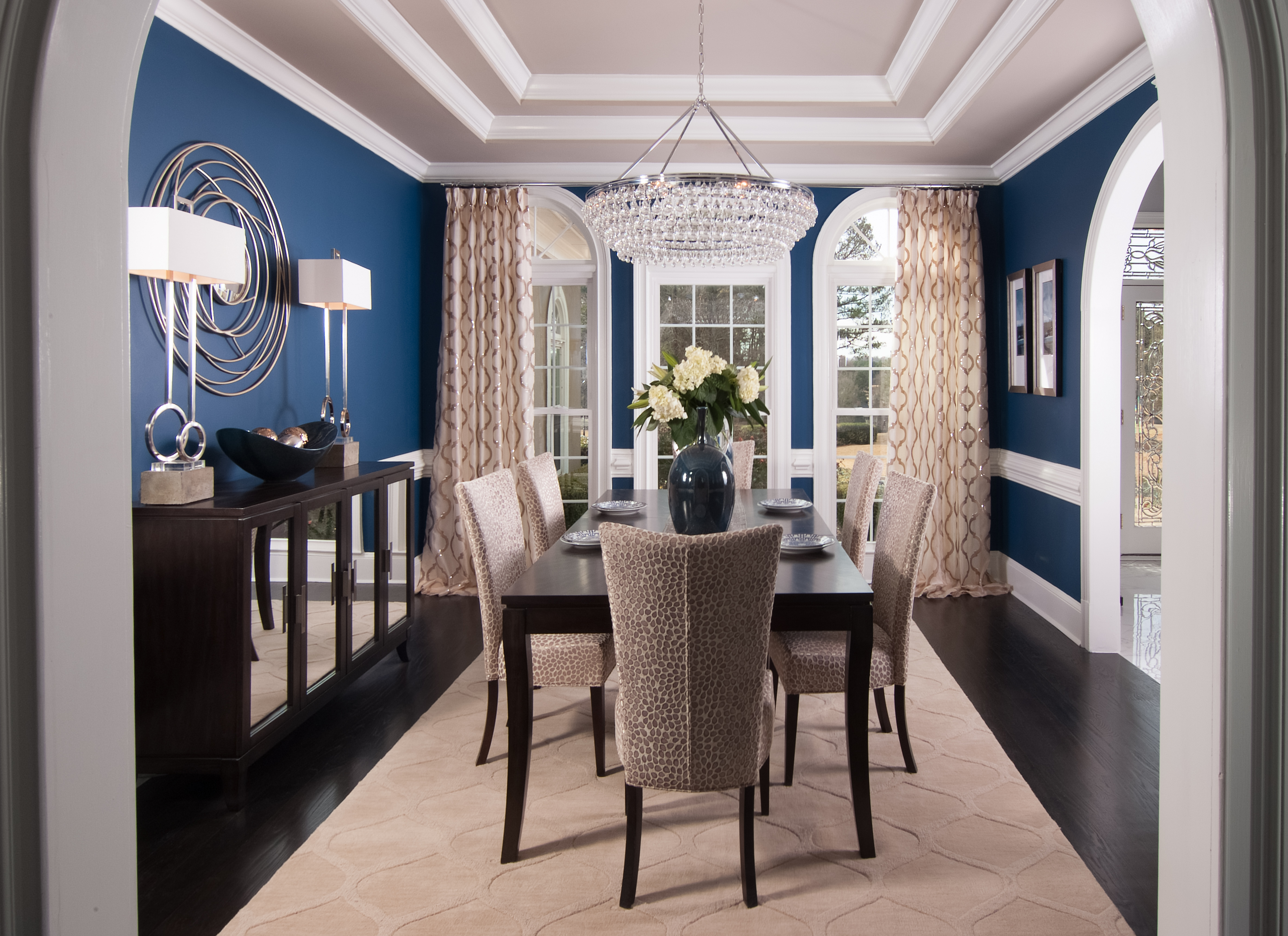 1st Place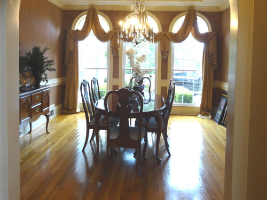 Before
Barbara Elliott & Jennifer Ward-Woods
Georgia
Ink-blue walls accent the trey ceiling with a shade of khaki. The white trim provided a soft contrast. We chose upholstered chairs with a high-back design and covered them in a khaki and silver print. A crystal chandelier with four rows of crystal balls and a silver base lights the room. Blue ink accessories on the server and table complete the look.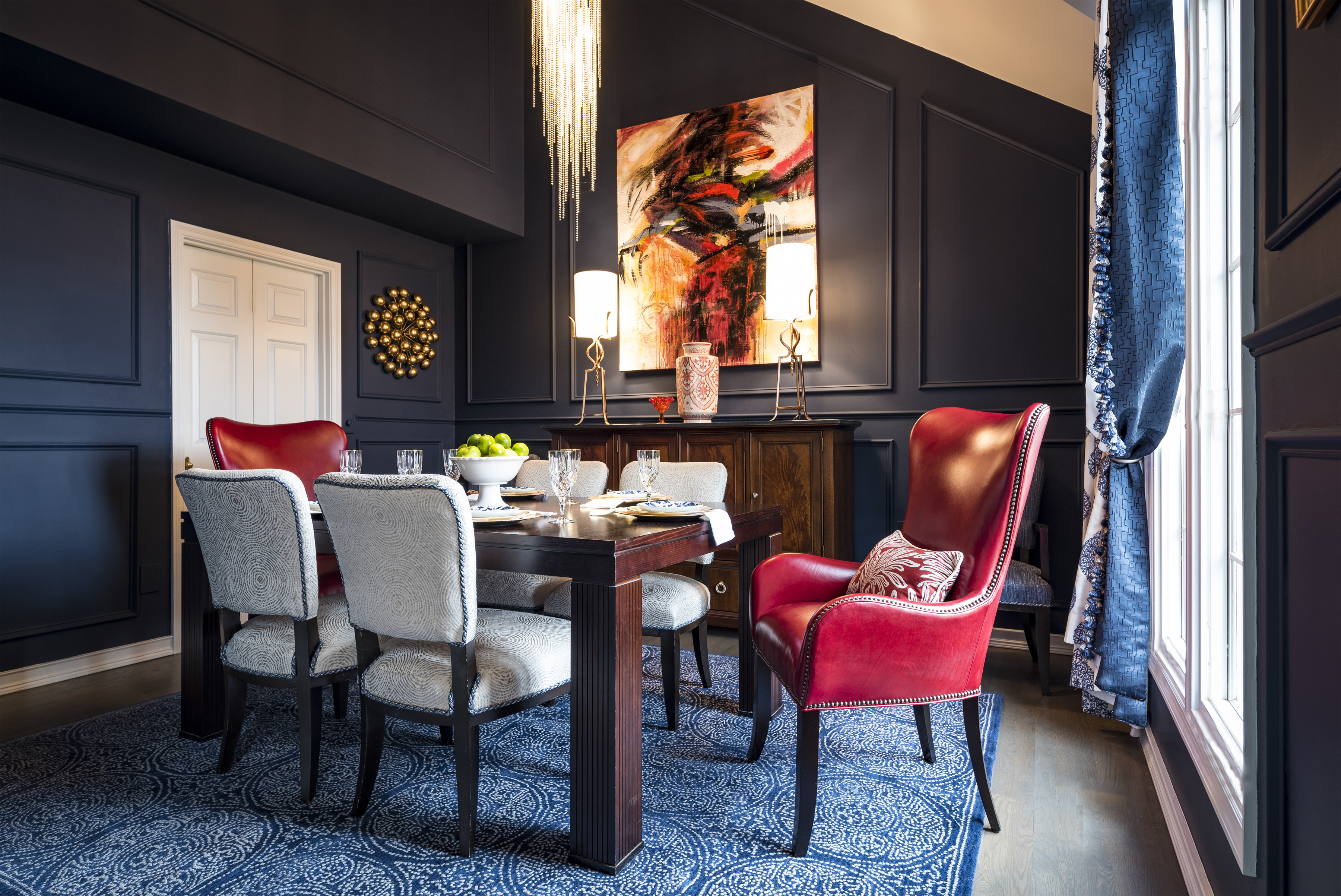 2nd Place
Gretchen Curk
Kentucky
Dark walls bring the space closer and make it cozier. Dividing the walls' uneven lines with frames created from trim, a faux wainscotting defines the space. Rich textures and a new design for the window grid bring a comfortable style to the room.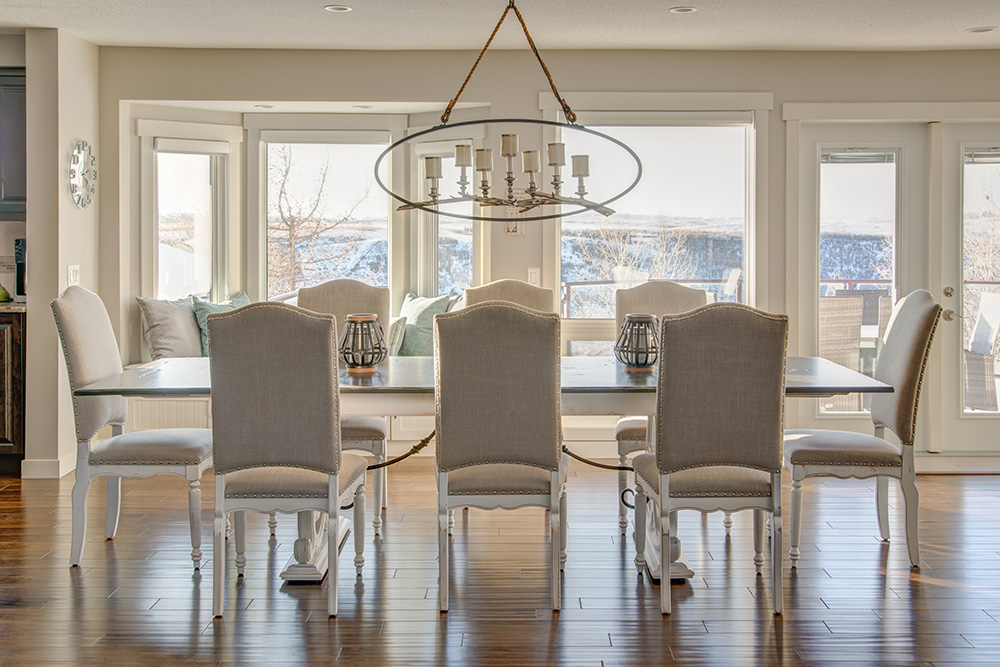 3rd Place
Katie Rioux
Alberta
We presented a unique custom table with a grey wash top and a white-washed base with coordinating chairs. Incorporating lighter tones throughout makes this space bigger, which enhances the Rocky Mountain setting.
Family Room Winners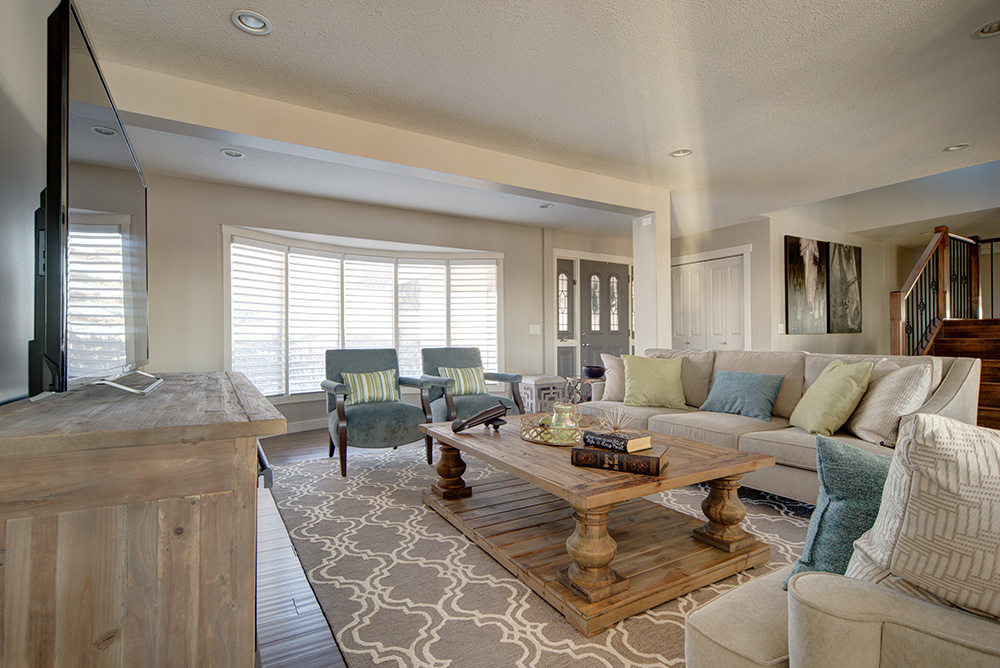 1st Place / Decorator of the Year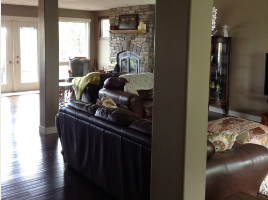 Before
Katie Rioux
Alberta
We incorporated Sunset blinds on the large windows - retaining the mountain view while protecting the floors and furnishings from sun damage and heat. A large wooden table anchors the space and the blue-and-green checked fabric on the custom ottoman establish the color template for the rest of the space.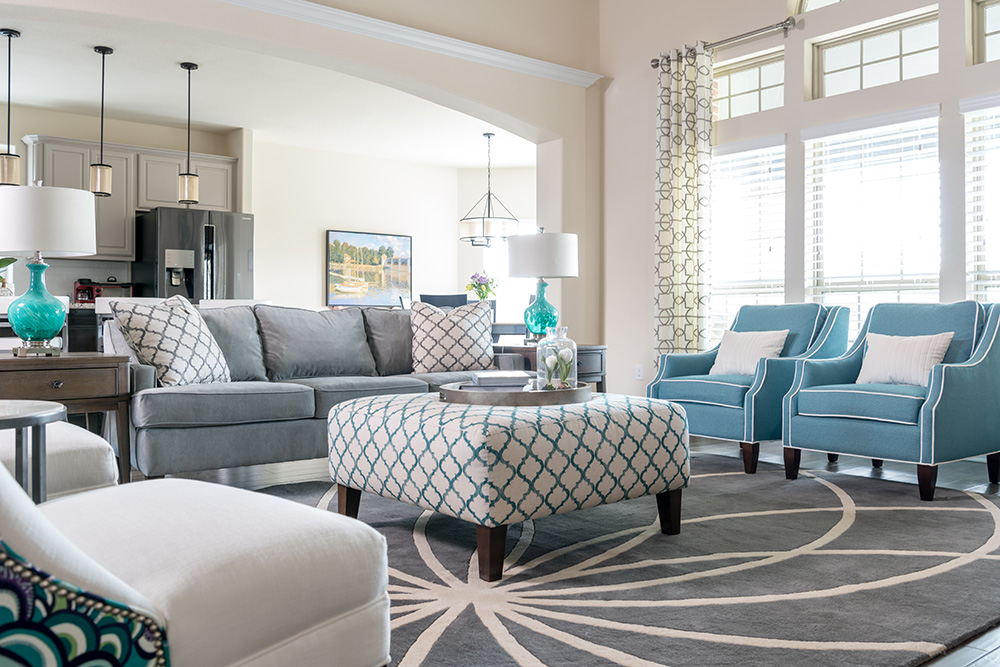 3rd Place
Dee Frazier
Texas
The room features an open transitional pattern on the ottoman with a touch of teal, along with a large area rug in the neutral color with a modern design.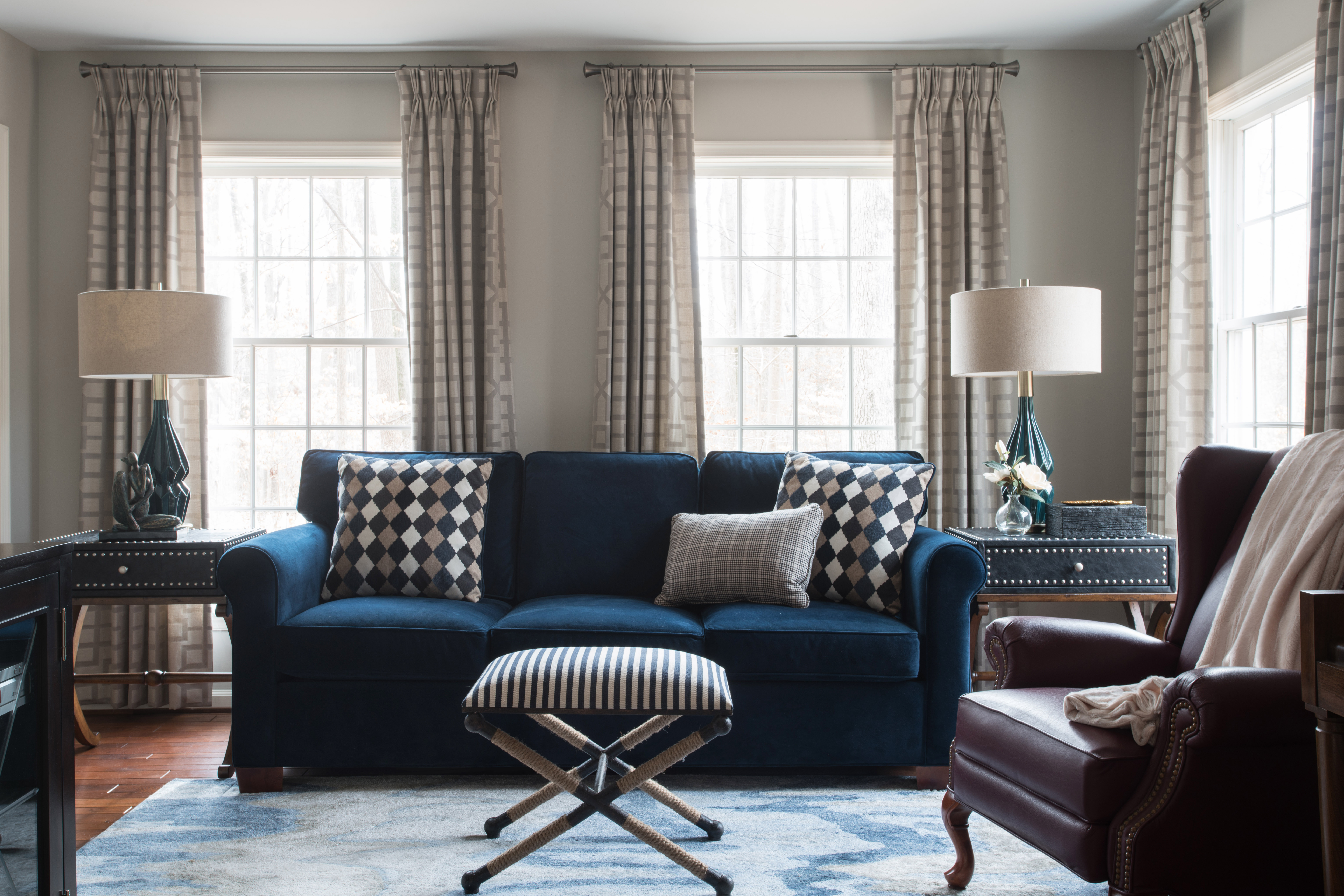 People's Choice Runner-Up
Barbara Hayman
Pennsylvania
This gorgeous den was inspired by the owner's desire to step outside of his comfort zone. We paired a bold navy sofa and a beautiful bamboo silk strand rug with lustrous waves of denim, beige, ivory, navy and grey as the focal point. The accessories we provided satisfied the owner's desire for a botanical touch.
Home Office Winners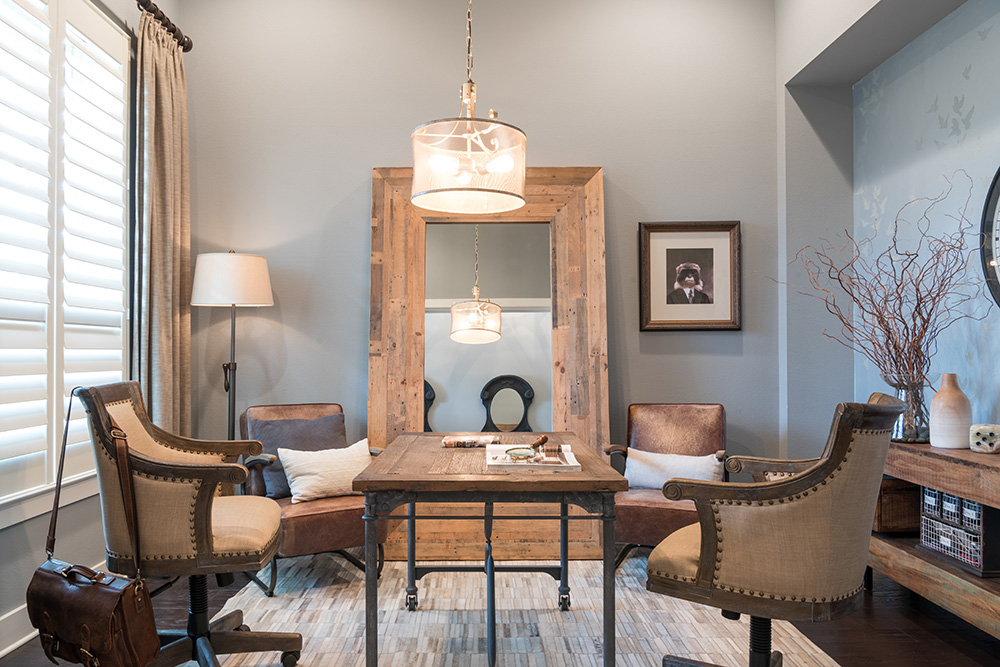 1st Place
Before
Kris Miller
Texas
This farmhouse-meets-industrial home office features an oversized, distressed partners' table along with vintage driftwood chairs in natural linen. A mosaic cowhide rug, linen drapery, reclaimed wood mirror and other elements complement the thematic look.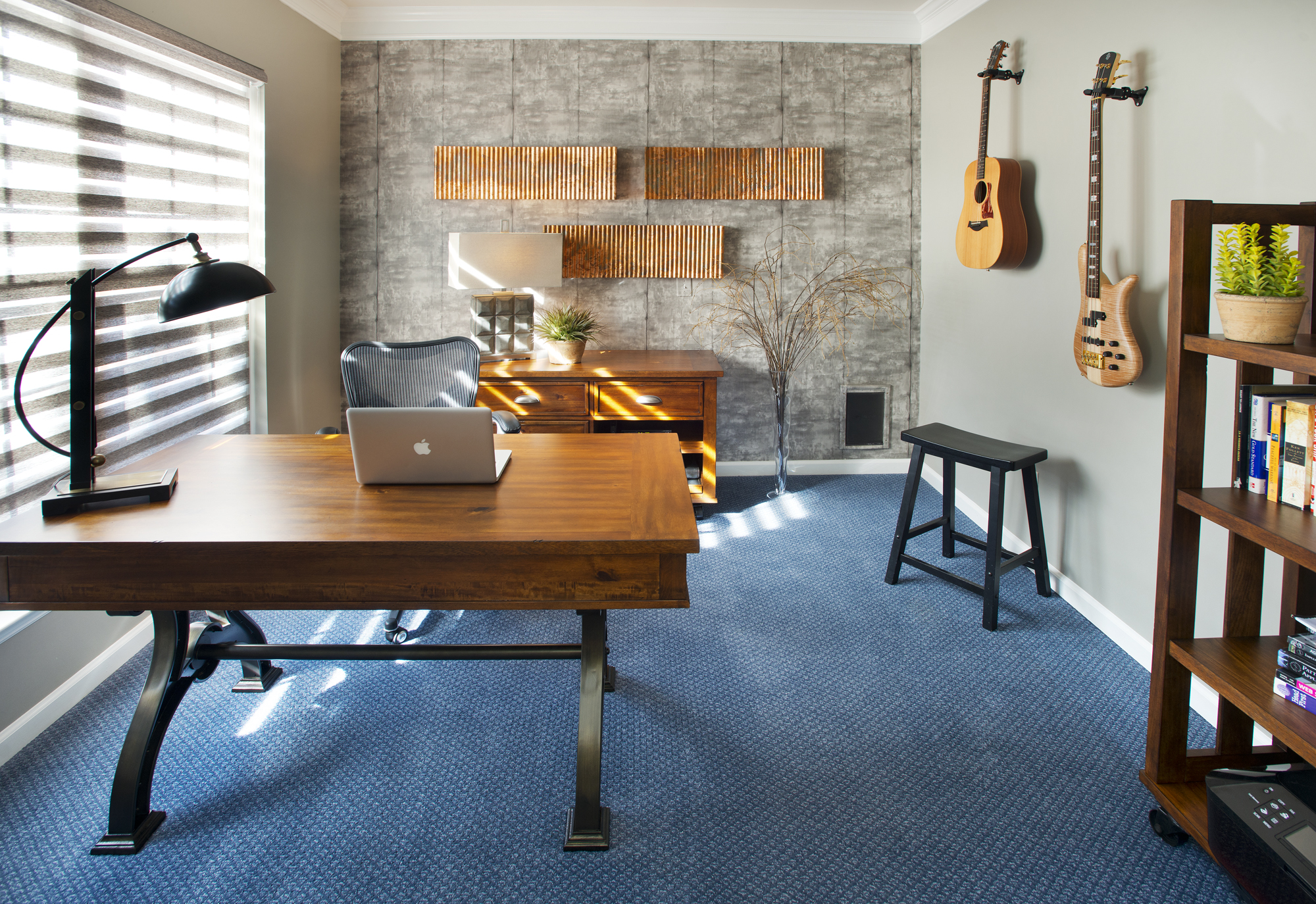 2nd Place
Chantae Thompson & Bohnne Jones
Tennessee
Graffiti wallpaper covers the new "barn door" entry to a home office for millennials. The window-shading and openness of the metal and wood furnishings create an inviting workspace. Guitars and wall art add texture and personality, while blue carpet finishes the room.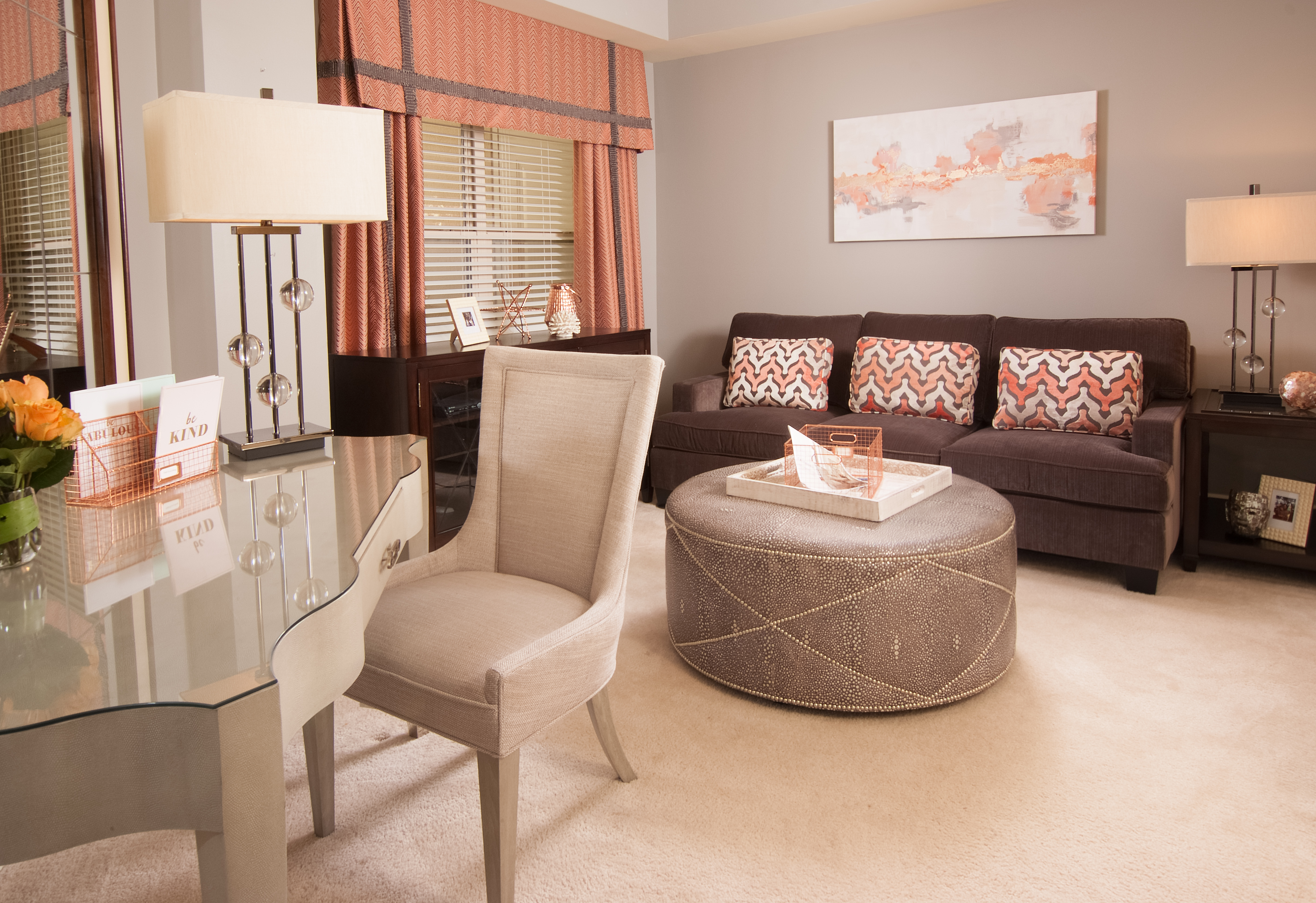 3rd Place
Barbara Elliott & Jennifer Ward-Woods
Georgia
The homeowner wants a dual space - a place the guests and a functional office for every day, but also a beautiful room. The soft color palette of salmon, gray and cream bring it all to life.
Kitchen Winners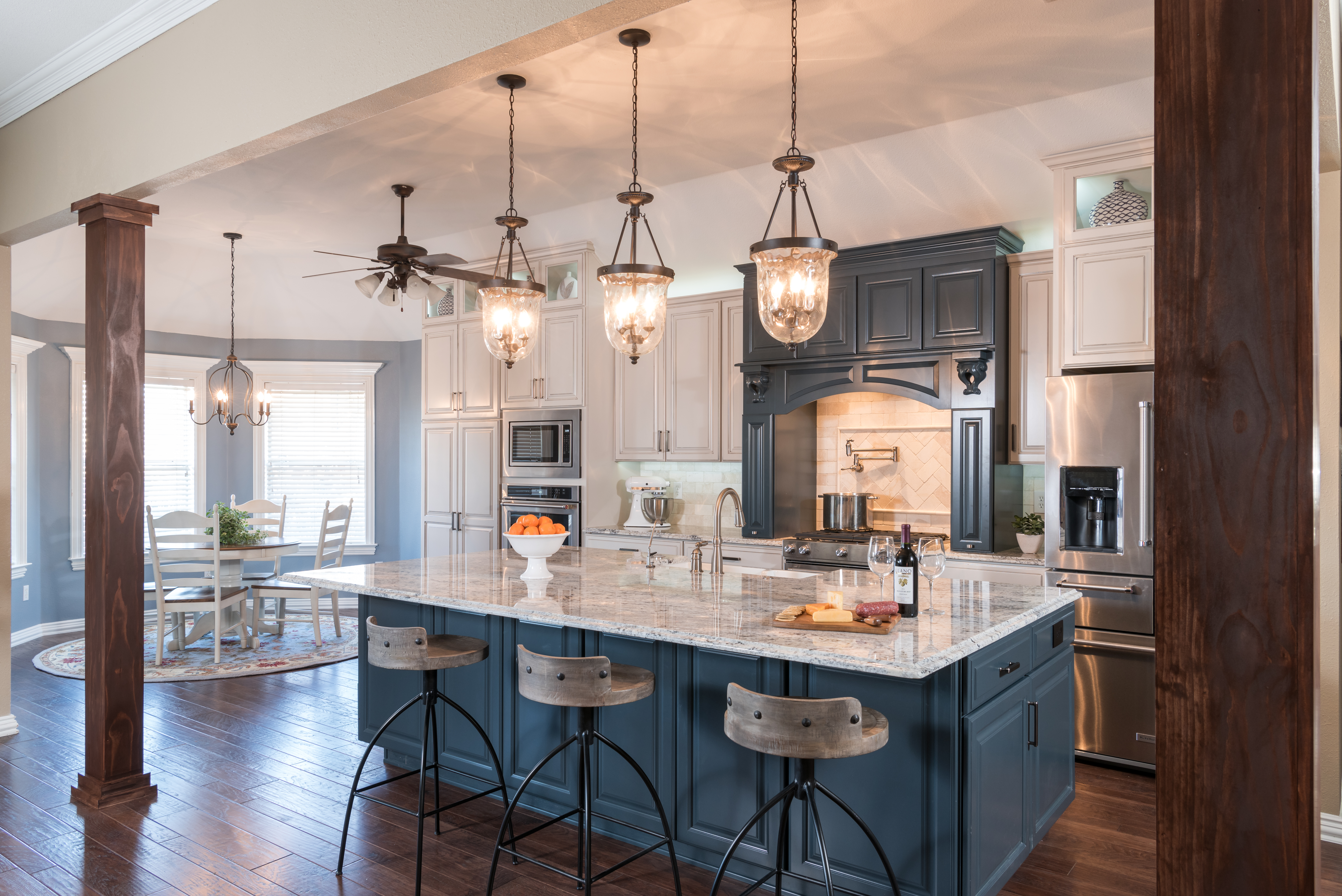 1st Place / Runner-up Decorator of the Year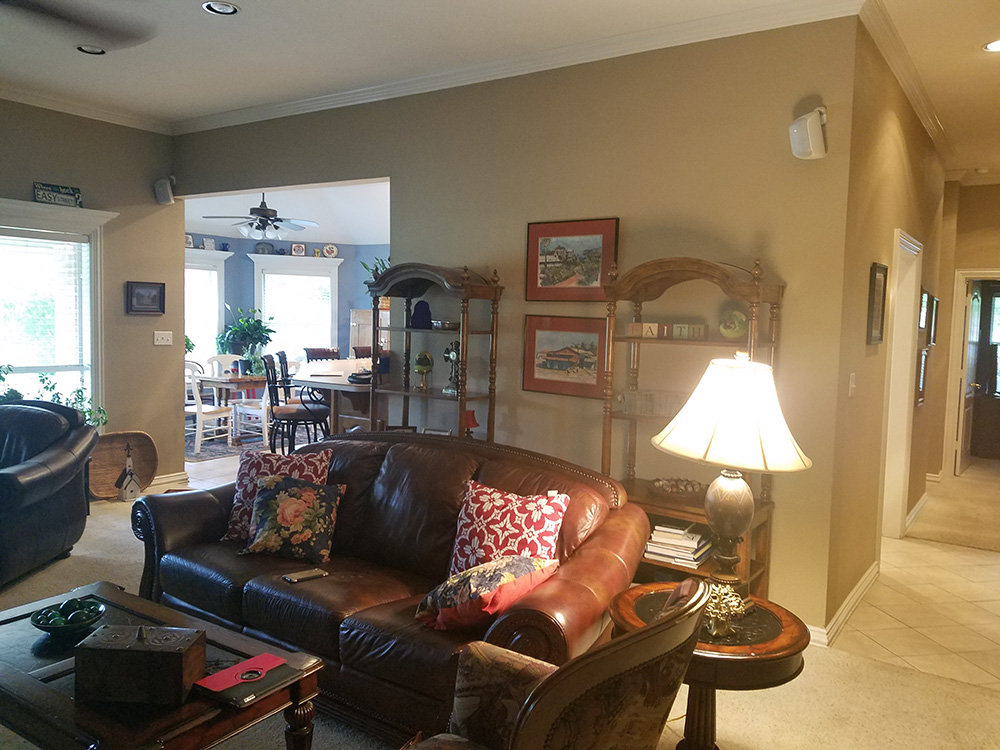 Before
Jennifer Manley
Texas
This is a kitchen for an entertainer. To open up the space we removed a load-bearing wall with four appliances and cabinetry. Next we built two columns, stained to match the new wood floors, to anchor the kitchen and maintain the structural integrity. Sculpted glass pendants, an iron chandelier and a kitchen table finish the space.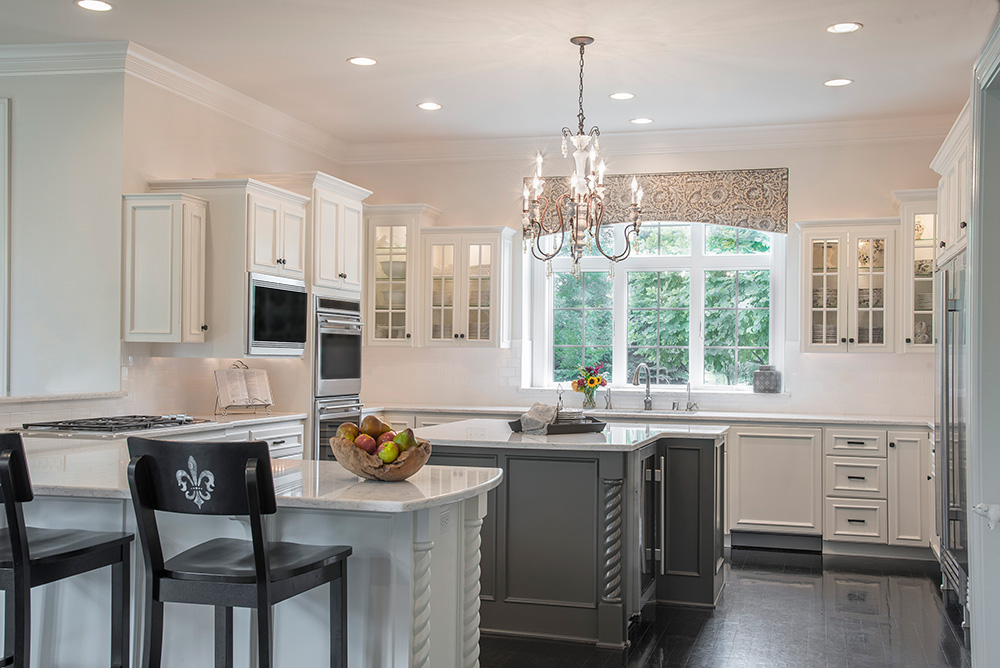 2nd Place
Suzan Wemlinger
Wisconsin
We replaced the traditional granite with fresh quartz. The island was painted a warm gray and the cabinets a creamy white. New hardware added to the updated look. New light fixtures with a shabby-chic vibe made the room more appealing and inviting.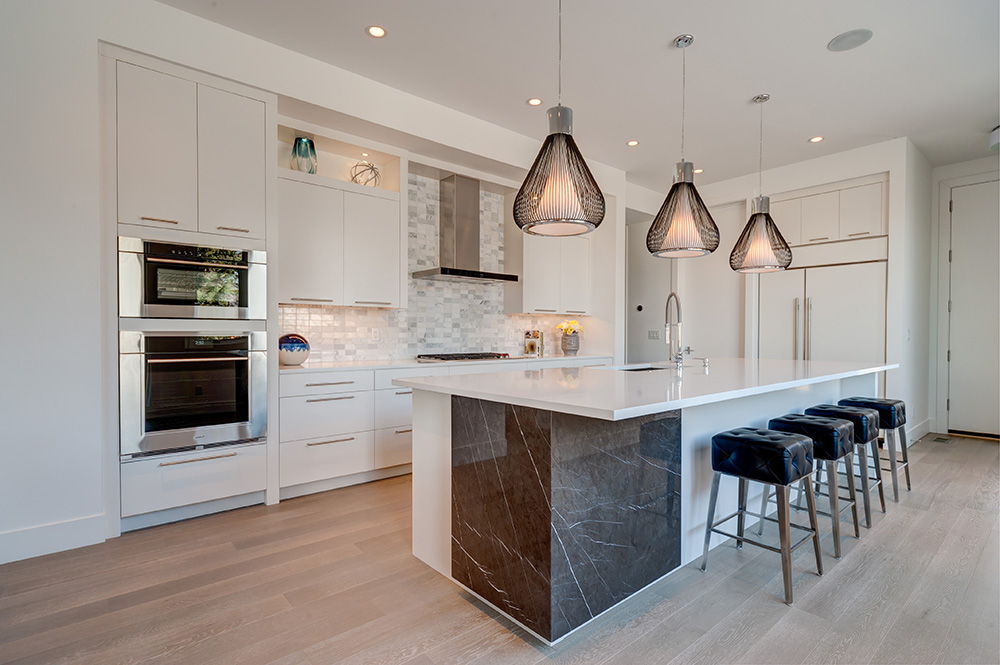 3rd Place
Katie Rioux
Alberta
This modern, elegant kitchen features plenty of light, white walls and ceilings, and a glossy white-and-grey backsplash. Hardwoods floors, hanging light fixtures and black-and-silver breakfast stools complete the look.
Living Room Winners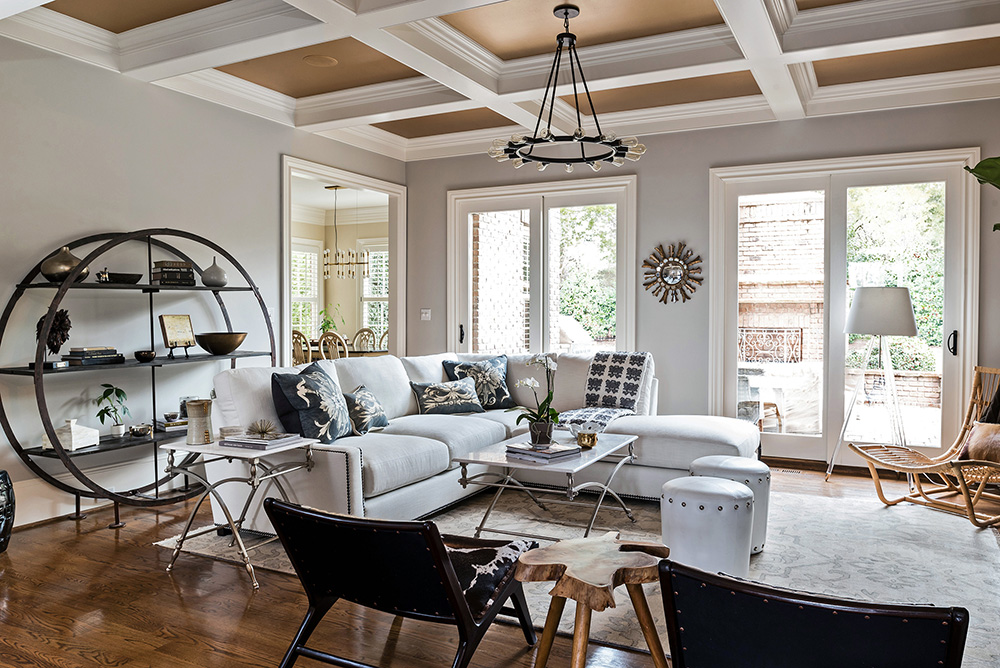 1st Place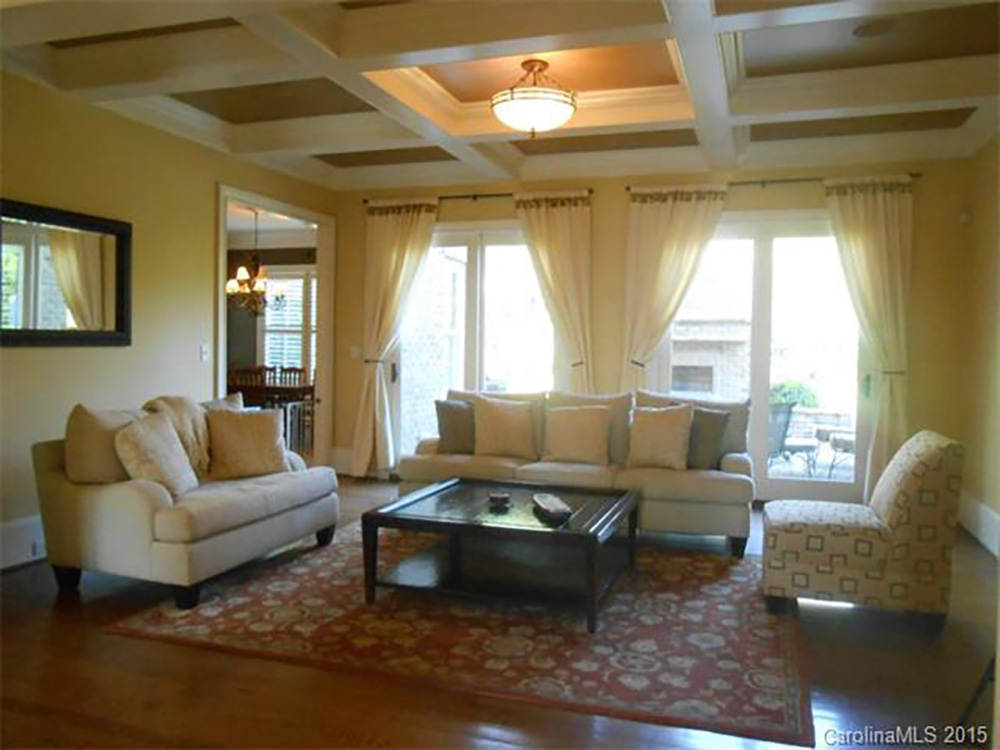 Before
Valery Huffenus
North Carolina
This bright living room features a fresh, current and modern color palette. It's a perfect place for one person to lounge or for many guests to enjoy conversation. Variation in color and contrast add interest. The use of personal antiques and artwork add drama. A mix of materials provides textures, variety and warmth.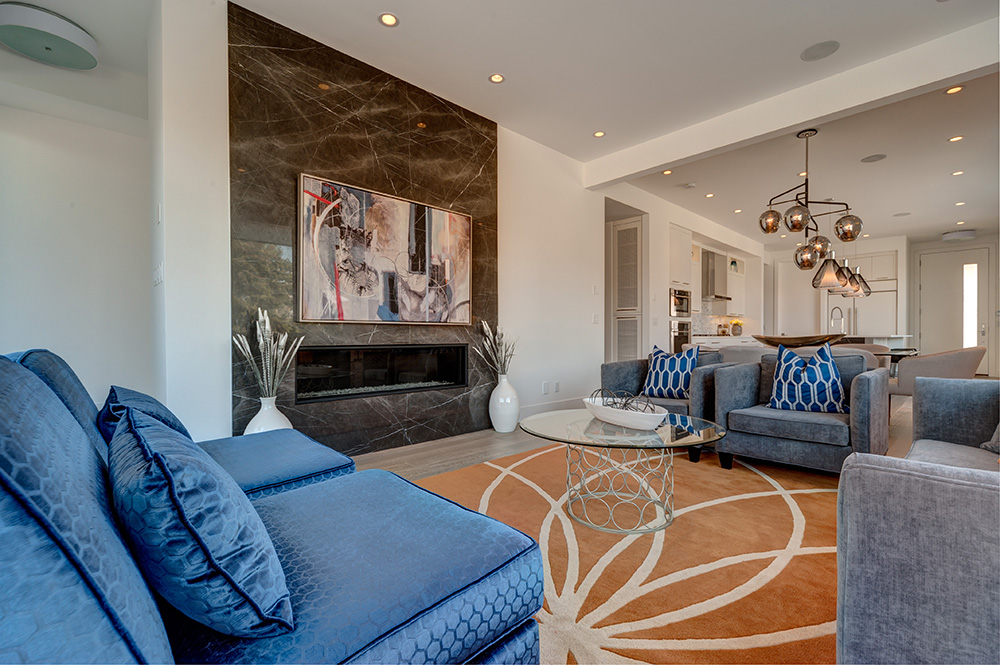 2nd Place
Katie Rioux
Alberta
We began our design with a complementary color scheme of orange and navy blue. Sheer custom ripplefold drapery highlight the windows and allowed filtered light to accent the space. A glass-topped cocktail table keeps the space open.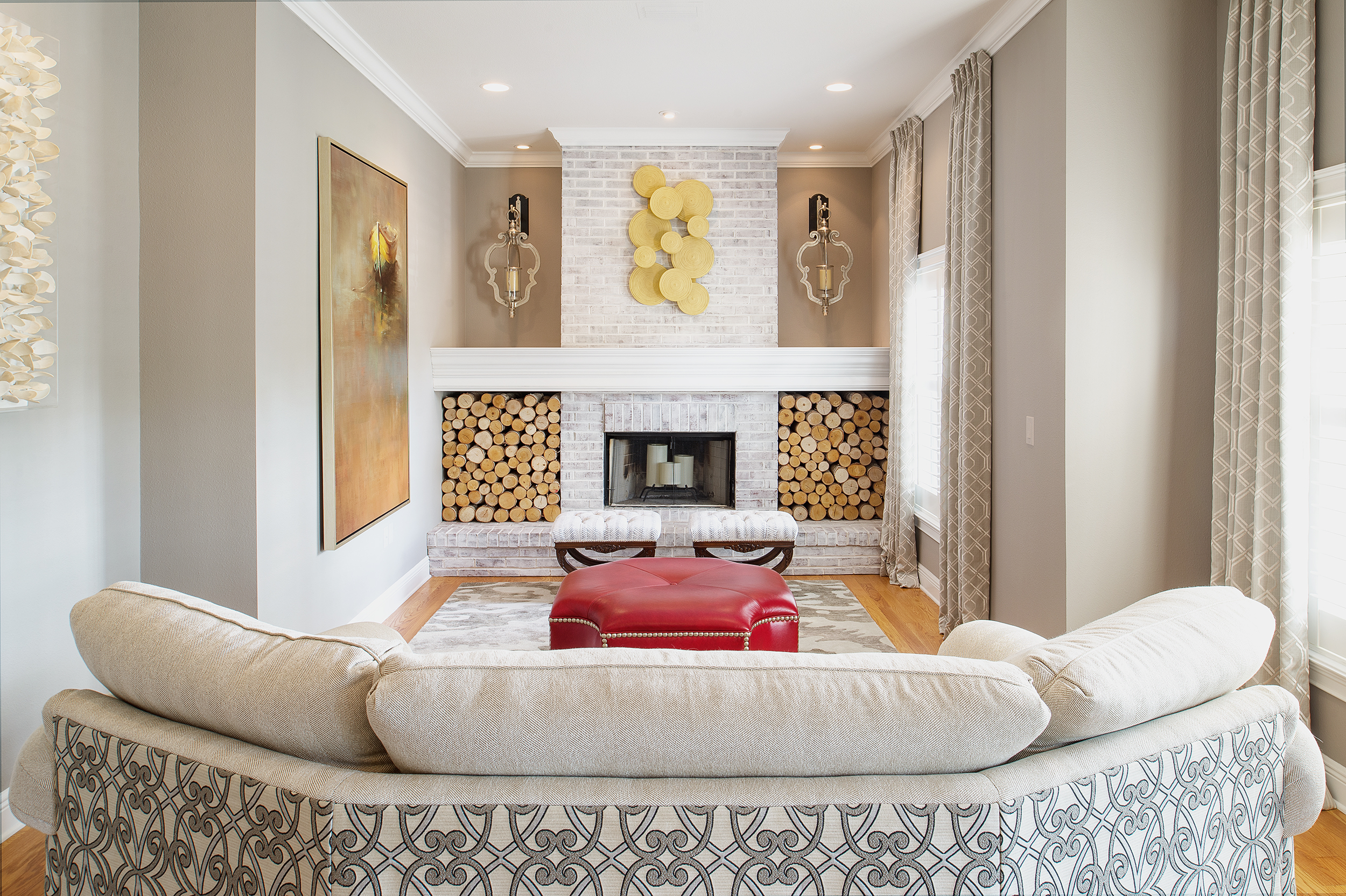 3rd Place
Leonie Linscheid
Florida
We acid-washed the brick fireplace for a more contemporary feel, and painted the large floating mahogany mantle piece a high-gloss white. Artwork and a few three-dimensional pieces accentuate the walls.
Miscellaneous Winners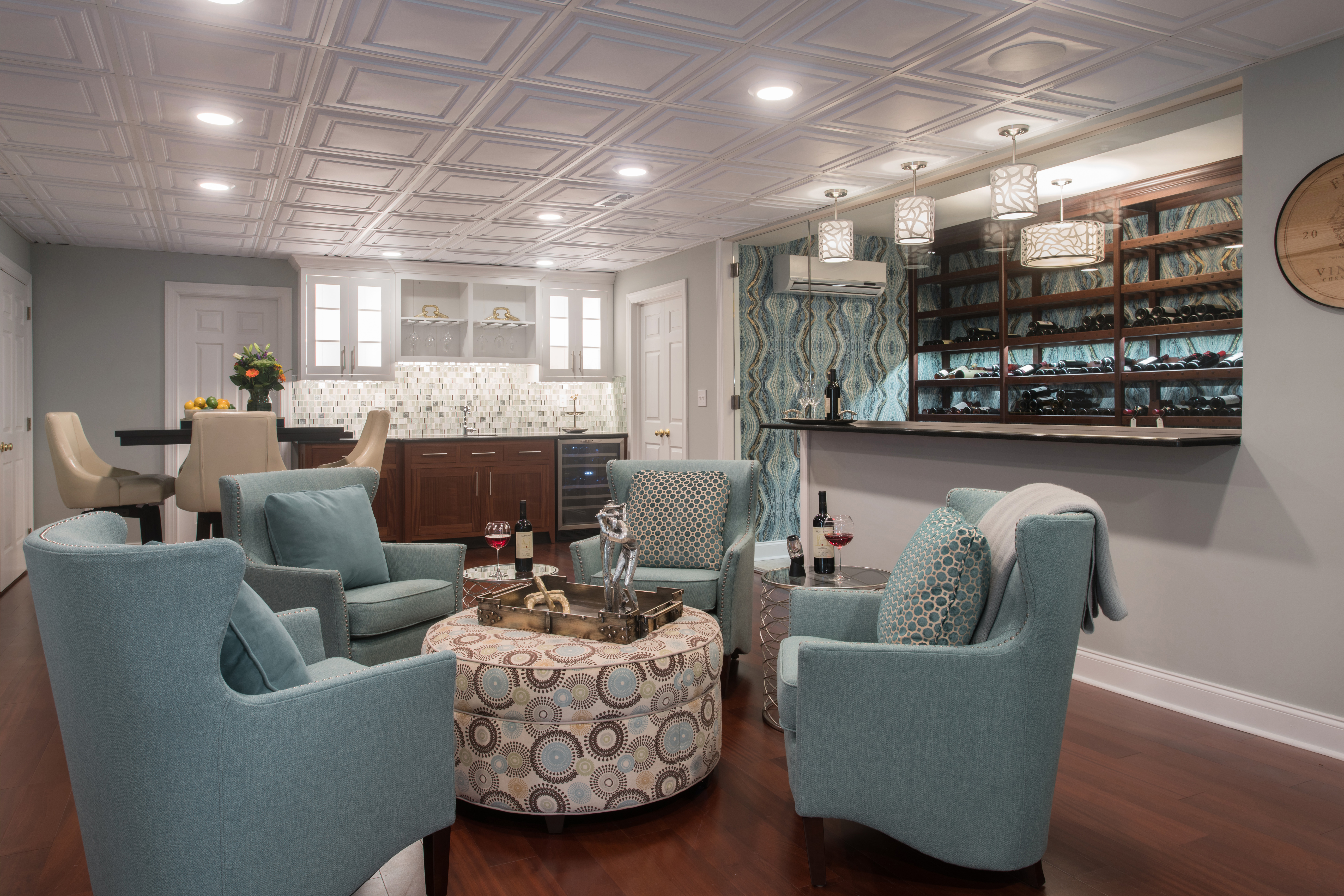 1st Place / People's Choice Winner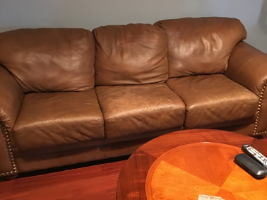 Before
Barbara Hayman
Pennsylvania
A neutral travertine tile in cool beiges and sandy waves anchors the new wine room. Wallpaper in shades of blues, greys and gold serves as the focal point, while cedarwood wine racks line the rear wall. Outside the wine cellarium, a seating area boasts a custom ottoman wrapped in a fun, contemporary mix of aqua, green, beige and brown on microfiber.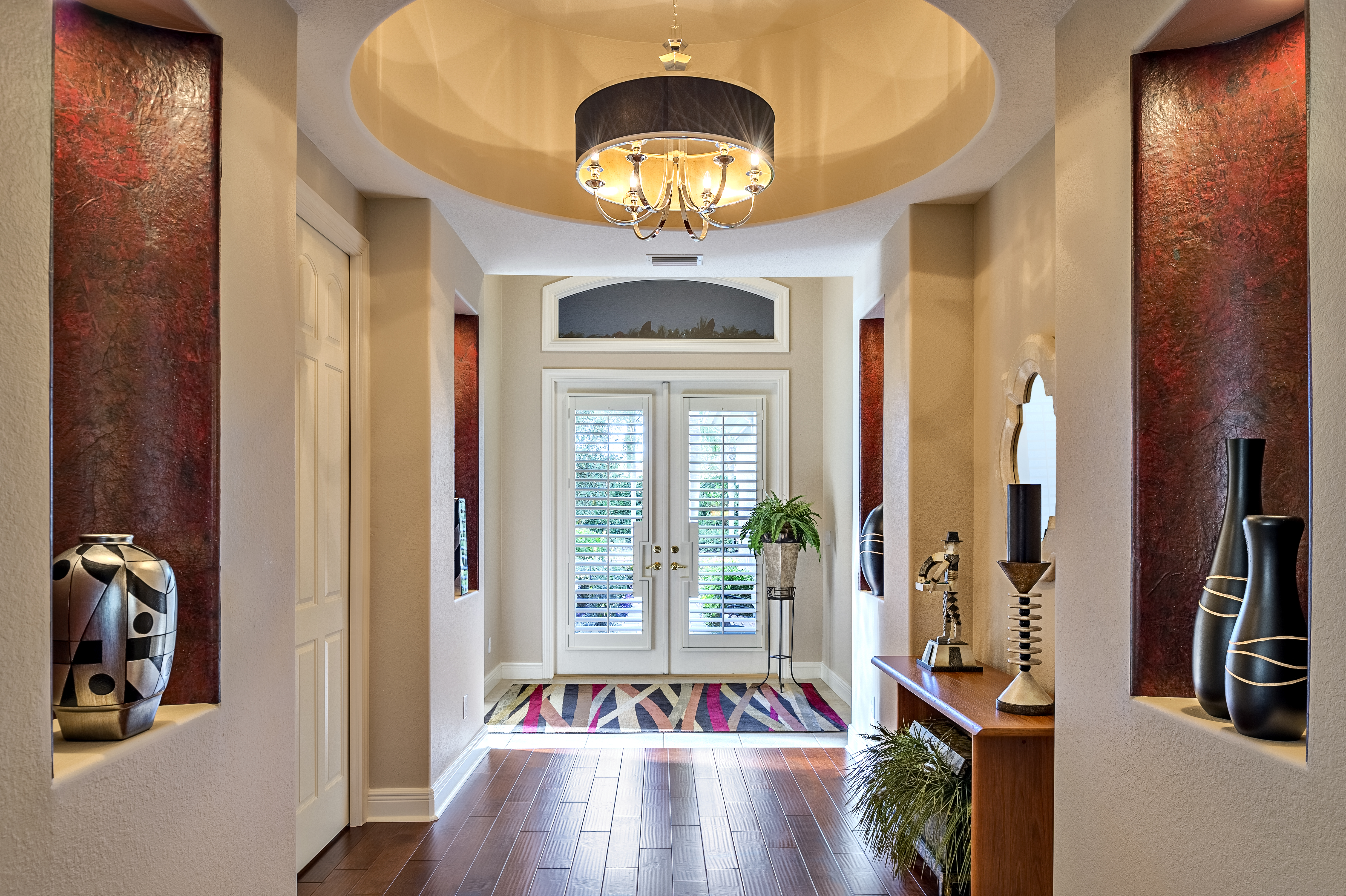 2nd Place
Sue Thomson
Florida
We started by adding light to the niches and a spectacular light fixture in the tray ceiling. A custom hand-torn wallpaper enlivened the space. A colorful indoor/outdoor rug brought in colors found throughout the home, providing a seamless transition between the hardwood and tile flooring.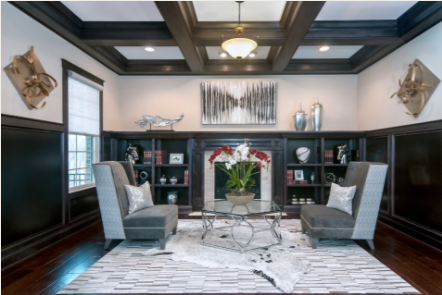 3rd Place
Rebekah Perry Clark
Indiana
Functional elegance was the goal for this space. Perfect mixes of layered hair hide area rugs added interest and texture, and a high gloss hand-painted black-and-white art piece completed the look of modern elegant space for entertaining.
Window Treatment Winners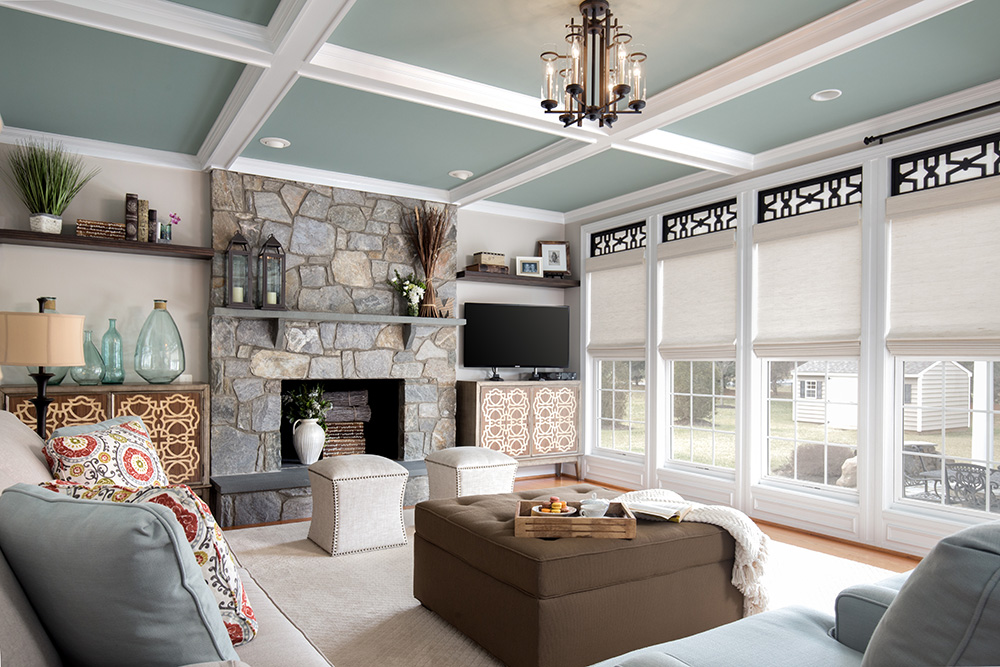 1st Place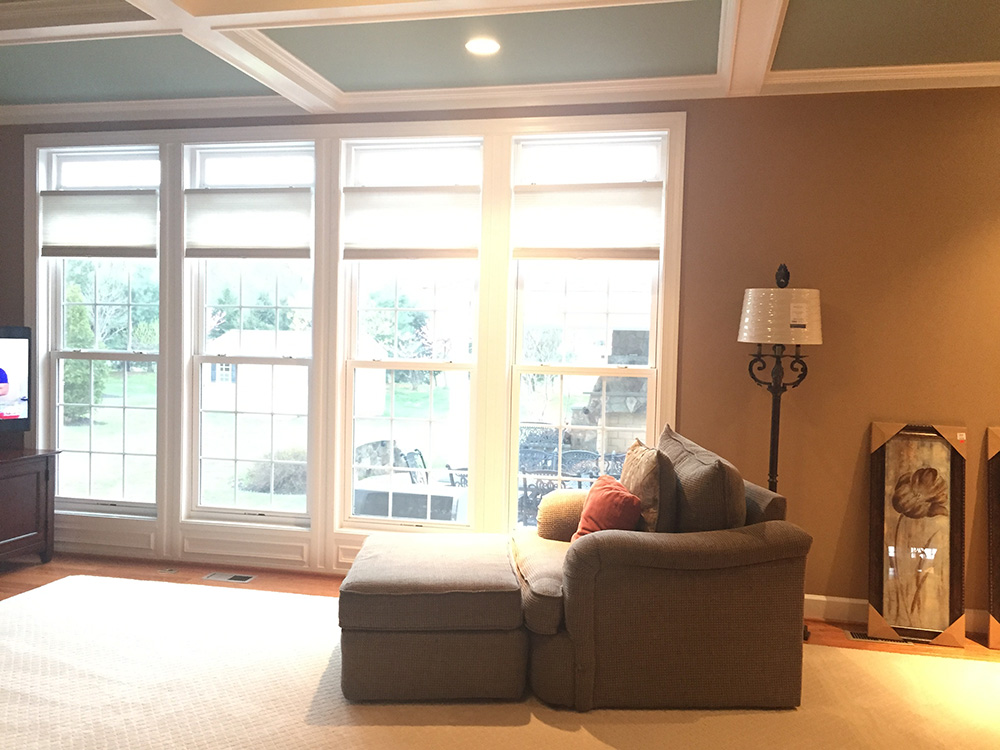 Before
Mimi Wilson
Virginia
We replaced the existing honeycomb shades with light, natural Roman shades to filter the afternoon glare. The transom windows feature a solar screen to reduce television glare. Those grilles then draw the eye upward to the coffered ceiling and unique chandelier. A textured drapery panel complete the treatment.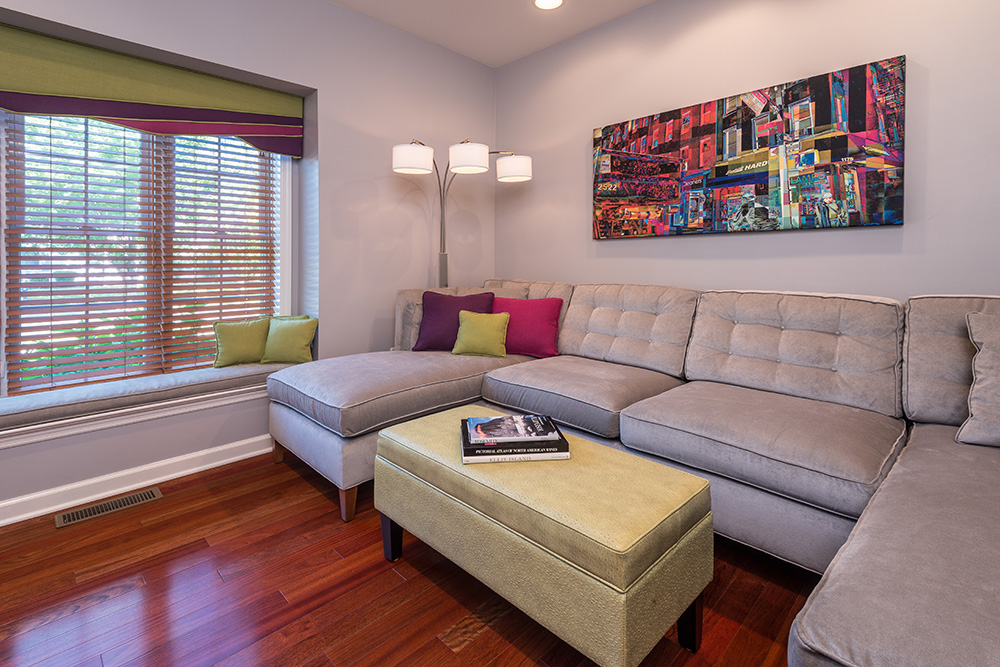 2nd Place
Barbara Tabak
Pennsylvania
Here a contemporary styled cornice board dresses the window. The cornice is divided into sections that are upholstered using vivid fuchsia, lime-green and plum linen fabrics to create a modern, tailored look. The window seat is fitted with a gray cushion and accessorized with throw pillows that harmonize with the cornice.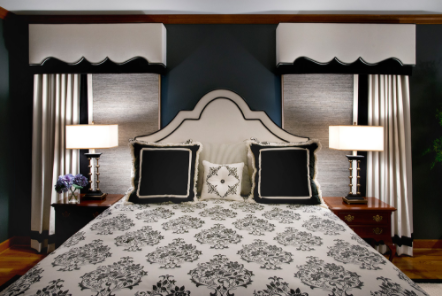 3rd Place
Bohnne Jones
Tennessee
Dramatic and elegant multi-layered window treatment design, in cream and black velvet, provides light control, privacy and beauty. Black/cream/gray black-out roller shades provide light control and visual texture at the windows.